frequently asked questions
How can 1 Bonhappi-T feed 1 mouth for 1 month?
---
On receipt of the payment, on behalf of the purchaser, the monthly people-feeding amount it transferred to NGO FoodForwardSA and the monthly dog-feeding amount to The Do More Foundation. The monthly feeding cost is calculated by these organisations. FoodForwardSA reuse edible surplus food from manufacturers, wholesalers and retailers and ensure that this food enables the provision of millions of meals annually, by over 1000 registered Beneficiary Organisations, to the most vulnerable people - children, orphans, abused women, unemployed youth, those living with HIV/AIDS, the disabled and the aged. At least 85% of FoodForwardSA's Beneficiary Organisations undertake education, skills development or remedial activities. An 8kg bag of Bobtail, that feeds an average dog for a month, is provided to our dog charities, through The Do More Foundation. These organisations feed dogs in underprivielged/rural areas as well as dogs looking for new homes.
---
Do you offer free shipping and how long does it take?
---
Shipping is free in South Africa. Our selling price includes express courier, to your door, in 2-6 working days. Outside of South Africa, a flat rate applies for express courier, to your door, in 8-12 working days. Additional international duties or taxes may be applied by your country's customs department and is for your account. Often there are no custom charges.
---
Where is my Bonhappi-T made?
---
Your exclusive Bonhappi-T is made in Southern Africa. We are dedicated to providing jobs in South Africa through local production.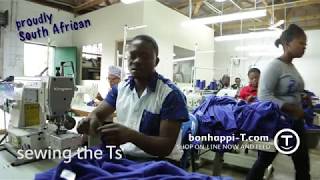 ---
What size am I?
---
Check the size guides on the product pages or at the bottom of the website carefully. People t-shirt measurements, using chest, length and hem, are provided in centimetres and converted to inches. If your measurements are exactly as per the size table or slightly over and you prefer your shirts a little baggy, perhaps order a bigger size. Dog warmers use length, neck and chest measurements. Caps are one size fits all. We don't accept returns or exchanges for sizing as the monthly feeding is done on receipt of payment so make sure you follow the size guides accurately.
---
What forms of payment do you accept?
---
We accept credit cards, EFT (electronic funds transfer) and PayPal. We do not accept cash, money orders or cheques.
---
How do I know if my order was placed successfully?
---
You will receive an email confirmation shortly after your order is submitted to confirm that we have received it. Once your order is shipped, you will receive an email confirming shipment and supplying you with a tracking number to enable you to follow your order, should you so wish.
---
Can I cancel an order once it has been placed?
---
In an effort to get your Bonhappi-T to you as quickly as possible, your order cannot be cancelled or modified once it is placed. In addition, the monthly feeding is allocated as soon as your payment has cleared in our bank account.
---
Where do you ship to?
---
We ship all orders from Durban, South Africa directly to your home or office, anywhere in the world.
---
What is your returns policy?
---
If by some chance there is a manufacturing defect in a Bonhappi-T's materials or workmanship, you can send your Bonhappi-T back for a replacement. Contact us on sam@bonhappi-T.com and we'll sort you out. If you decide that you have chosen the incorrect size, colour or design then you can make a friend happy by giving them the Bonhappi-T, as we do not accept exchanges or returns. Your feeding for a month is allocated when your payment has cleared in our account. Why don't you choose and order a different Bonhappi-T for yourself? Then you and your friend will be feeding 2 mouths for a month.
---
---